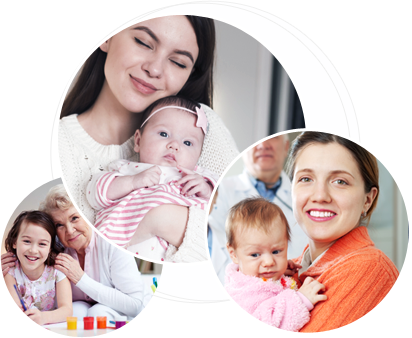 Our Mission
At Pediatric Associates, PC, it is our mission to provide the highest quality care for all of our patients and families.
We believe in developing a partnership between the pediatrician, patient and their parents based on trust, respect and compassion. We embrace the concept of a patient-centered medical home and strive to provide personalized care for all, promoting healthy physical and emotional development.
Routine Care
Parents know who they should go to when their child is sick. But pediatrician visits are just as important for healthy children.
Please look through our comprehensive list of services we provide. Keeping your child healthy and happy are our fundamental goals. As parents making sure your child is healthy goes beyond just going to the doctor for a cold. Taking your child in for regular visits can help avoid serious problems in the future.
Wellness Visits:
Well Child Care
Vision Screening
Dietary Counseling
Milestone Screenings
Preventative Medicine
Anticipatory Guidance
Immunizations
Physicals/Forms:
School Physicals*
Sports Physicals*
Pre-Surgical Physicals
FMLA*
Asthma and Food Allergy Action Plan
*See Office Policies section for more info, fee may apply
Conditions We Manage:
*Accident Prevention
*ADHD
*Depression
*Learning Disability
*Hypertension
*Thyroid Disease
*Neonatal Screening
*Development
*Diabetes and Cholesterol
*Autism
*Behavioral Problems
*Vision
*Hearing
Abdominal Pain
Asthma
Fever
Vomiting/Diarrhea
Influenza
Insect or Animal Bites
Croup and Bronchitis
Pneumonia
Mild Breathing Difficulties
Mild Dehydration
Infection of (Ear/Eye/Skin)
Urinary Tract Infactions
Rashes, Abscesses or Boils
Burns
Bleeding, Cuts and Lacerations
Sprain and Simple Fractures
Sore Throats
Sports Related Injuries
Urgent Care Hours:
| | |
| --- | --- |
| Monday | 8AM - 8PM |
| Tuesday | 8AM - 8PM |
| Wednesday | 8AM - 8PM |
| Friday | 8AM - 5PM |
| Saturday | 8AM - 1PM |
| | |
| --- | --- |
| Monday | 9AM - 5PM |
| Wednesday | 12PM - 8PM |
| Friday | 9AM - 1PM |
| Saturday | 9AM - 1PM |
Please Call!
We do not treat life threatening emergencies.
Please call 911 or report to nearest emergency room.
(844) 372-7672